There are many reasons visitors are drawn to visit the Napa Valley, but it is no secret that our world class wineries and tasting rooms are a big draw.  Over the past few years, Napa wineries have shifted towards a more personalized experience, which often includes a seated tasting lasting anywhere from 60-90 minutes.  If you are looking to spend several days in the Napa Valley but are hoping to not put a huge dent in your wallet, there are numerous and varied tasting options from incredible wineries and tasting rooms for $50 and under.
Below you will find our favorite spots from Napa to Calistoga that feature experiences for $50 and under! If you are looking to spend an entire day on foot, strolling from tasting to tasting, be sure to visit us in Yountville!  Read about Wine Tasting Options in Yountville for $50 or less.
Please note that tasting experiences change often, so please make sure to confirm dates, prices and offers with the wineries and tasting rooms before visiting. 
Originally the site of an equestrian center, this picturesque winery has several outdoor seating areas, perfect for enjoying their showcase of Napa Valley's diverse winegrowing appellations.
The Terrace Seated Tasting includes four samples of wine for $40.
Located in the heart of downtown Napa, Chateau Buena Vista pairs the dream of Champagne, Caviar, Cabernet and Chocolate.  Chateau Buena Vista invites you to embrace luxury and extravagance. Sink into the plush, velvet couches amidst a dreamy landscape of imagination.
Explore the charms of Buena Vista Winery with the Taste of Buena Vista, encompassing three exemplary varietals from both Sonoma and Napa County for $40.
Nestled in the heart of Napa Valley's famed Stags Leap District, Clos du Val has been crafting renowned Bordeaux-inspired wines since 1972.
A Taste of Clos du Val includes 3 classic Napa Valley wines for $35.  Available Monday-Friday only
Another option is By the Glass in the Garden.  Enjoy select wines by the bottle or glass in the relaxed garden patio. Order à la carte from current selections and enjoy with your party at your own pace as you take in the sights and sounds of our home vineyard.  $10 per person, plus cost of wine.
Discover the range of limited production and award-winning Etude wines in the relaxed atmosphere of their light-filled Carneros tasting room. The Etude experience will appeal to wine lovers seeking to taste the best of Napa Valley in a single location.
The Discover Etude Tasting introduces what Etude's heart and soul are and gives guests a variety of wines sure to please any palate, $40 per person.
Roughly translated, Materra means "Mother Earth". Mattera's commitment to Mother Earth is extensive.  They are a Napa Green Certified Winery, Fish Friendly Farming Certified, and powered by Deep Green-100% Renewable Energy.
The Daily Tasting is available inside the tasting room or outside and includes five classic wines for $45 per person.
Japanese Tasting Flight This tasting features 3 unique wines that Winemaker Chelsea Barrett has specially crafted to pair with Japanese cuisine.
A historic Napa Valley winery located in the Stags Leap District. Established in 1878, they are home to 289 acres of premium vineyards. They produce estate Napa Valley Cabernet Sauvignon, Merlot, Zinfandel and Syrah. For five generations, their family has farmed the scenic ranch with a commitment to quality and sustainability.
Take in the beauty of Regusci Ranch during the seated Outdoor Patio experience, The Estate Collection. An Estate Host will guide you through the rich history of the property, and the Regusci ancestry while tasting wines from our estate winery. 4 wines, $45.
A hidden gem in the Napa-Carneros area, Sainsbury is considered an essential stop for fans of Pinot Noir and Chardonnay.
The Classic Tasting features 5 single vineyard Pinot Noir & Chardonnay Wines, $40 per person.
A visit to Silenus Winery introduces guests to Silenus Estate wines, as well as the wines crafted at their production facility by their circle of boutique Napa Valley vintners. They offer extremely small-batch, premium wines, rarely found outside of the Napa Valley.
Silenus's "Eat Like a Local" picnic program is available with any reservation. Bring your own food and they can supply you with a beautiful setting, a picnic basket, utensils, wine glasses and everything you need to enjoy an afternoon picnic under the beautiful oak trees. Complimentary use of their bocce ball court is included.
Tasting options include the Vintners Tasting- a mix of white, rose, & light reds, or all whites upon request, 5 wines for $30, Red Wine Only Tasting, featuring 5 premium red wines for $40 and Reserve Tasting, featuring five of their top of the line Reserve Cabernet Sauvignons for $50
One of Napa Valley's pioneering wineries, you will find Trefethen on many a "must see" or "do not miss list" of wineries in the Napa Valley!
Winery Flights include 5 different wines, $45 per person.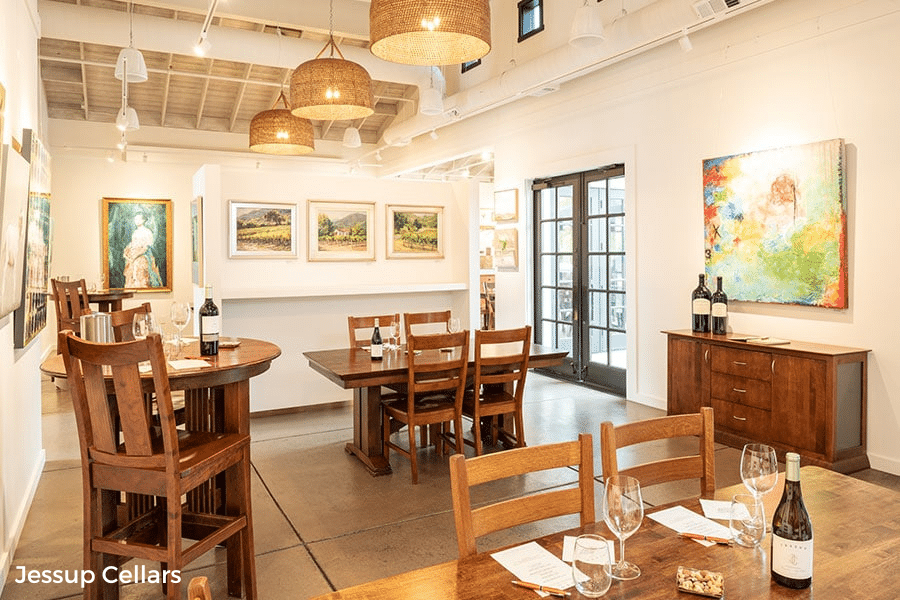 A visit to Yountville would not be complete without a wine tasting experience!  With over 14 tasting rooms all in strollable distance and 7 winery properties within a few miles drive, it is no wonder many refer to Yountville as The Heart of Napa Valley.
It all started with a group of friends sharing a bottle of Cabernet Sauvignon around a picnic table on the hillsides of Howell Mountain. From what could have been a passing moment of inspiration has resulted in over 30 years of small-production wine making.
Taste of Cornerstone Signature flight of five current release, limited production wines, $40
From what started with a handful of barrels made from a dear friend's vineyard in 1987, Elyse Winery has been the waypoint for countless wine lovers to experience California wines and fall in love with wines and vineyards of all regions and acclaim.
Elyse Tasting $50
A family winery overlooking the bucolic Napa Valley countryside nestled amid our estate vineyard in Yountville. Join them for a tasting outdoors on our patio while taking in the spectacular views of our estate vineyards and the Mayacamas Mountain Range.
Situated in the rolling hills of eastern Napa Valley, Hestan Vineyards is a 56-acre tapestry of small, individually farmed blocks, planted to the five principle red Bordeaux varietals: Cabernet Sauvignon, Merlot, Petit Verdot, Cabernet Franc, and Malbec.  They invite you to visit in their tasting salon. Built in 2013, the unique salon showcases Hestan's wines, Hestan cookware and Ruffoni Copper cookware.
Salon Tasting Yountville Enjoy a seated wine tasting experience featuring current Release wines, select Library offerings and limited release wines, most of which are available only at the Tasting Salon, $40
Hill Family Tasting Salon is an elegant yet relaxed experience located in the heart of Yountville.  Our salon-styled tasting room offers a comfortable setting amid eclectic décor such as a Fender electric guitar, antique furniture, a surfboard, and baseball bats stained with Hill Harvest Red wine.
Seated Wine Tasting explore an array of wines made from grapes that owner Doug Hill has been farming since the 1970s. Enjoy Napa's finest hospitality in a comfortable setting, where they will change your name to Hill for the day. $40, waived with $100 wine purchase
Wine & Cheese Pairing a tasting of current release wines, paired with an assortment of artisanal cheeses, crackers and almonds. $50, waived with $100 wine purchase.
Derived from a dream over a decade ago to a thriving artisan winery in Yountville, Napa Valley. Hope & Grace began its journey as a winery in 2001 with a small production of Pinot Noir from the Santa Lucia Highlands.  Today we are a modest producer of 3,000 cases annually. Focusing on limited production, single vineyard, 100% varietal Pinot Noirs, Cabernet Sauvignons, Malbec, Sauvignon Blanc, Chardonnay and Dry Riesling.
Classic Wine Tasting Join Hope & Grace for a relaxed experience, explore limited production, Artisan Wines at their exquisite tasting room bar. From Pinot Gris, Pinot Noir, Malbec, and Cabernet Sauvignon, a new favorite will await you! $35
Wine & Cheese Experience Join Hope & Grace for a special wine tasting experience at their charming tasting salon located in Yountville, Napa Valley. Their warm and knowledgeable staff will guide you through limited production wines, while sharing their story, as well as Napa Valley history. To further enhance your experience, your wines will be accompanied by delicious local and international artisan cheeses! $50
The JCB Tasting Lounge experience is a one-of-a-kind tasting room and retail store that encompasses the unique JCB approach that unites exclusive Napa Valley wines, luxury, and style, curated and created by Jean-Charles Boisset. It is a destination that unites wine tasting with retail fashion and lifestyle.
JCB Salon Wine Tasting Guests may choose from three curated wine experiences enjoyed in luxurious JCB Passion Baccarat crystal. 60-minute premium tasting flights range from $50, $65, and $85 and showcase our finest selections of Sparkling Wine, Chardonnay, Pinot Noir, Cabernet Sauvignon, and Red Blends sourced from Sonoma, Napa, and French vineyards. Starts at $50.
The Jessup Cellars story is one of passion, family, hard work, resilience and, of course, fantastic wine. Over the past two decades, Jessup Cellars has earned a loyal following for its ultra-premium wines of distinction and a word-of-mouth reputation for hosting one of the friendliest tasting rooms in all of wine country.
Tasting Flights
Flight of 3 = $30 |Flight of 5 = $50
Tasting fees refunded upon purchases on a per guest basis.
Reservations: 707-944-8523 | reservations@jessupcellars.com
Produces hand crafted, all-natural wines, each a singular expression of unique grapes. Aged to produce flavors defined by their purity and understated elegance.
Mira Winery Inception Tasting Experience Enjoy a relaxed seated tasting experience at the winery and hospitality house, just south of Yountville. Enjoy a selection of Mira's core wines while you learn about Mira and take in the scenic vineyard views. This is a 45 minute seated experience that does not include a tour of the winery.  $50 (waived with purchase of 2 bottles per tasting).
Visit the Priest Ranch tasting room for a uniquely cultivated and unexpected wine country experience. They offer distinctive tasting programs in an inviting, comfortable, and sophisticated wine tasting and shopping space.
Seated Tasting Experience Enjoy a seated tasting experience on the patio or in Priest Ranch beautiful tasting room.  Various flights are available to choose from upon arrival ($40 to $100 each) as are culinary additions.
Furnished exclusively with the Ralph Lauren Home Collection, a whole new approach pairing great wines with world-class home décor.
Flight of 5: This classic wine tasting experience includes: 'Apollo's Folly' Rosé of Pinot Noir (Sonoma Coast); 'Symphony No. 9' Sauvignon Blanc (Napa Valley); 'Benevolent Dictator' Pinot Noir (Russian River); 'Playing With Fire' Napa Valley Red Blend and 'Twenty Seven Fathoms' Cabernet Sauvignon (Napa Valley). $50
Potato Chip Extravaganza: Crunchy, salty, fun and ridiculously delicious. Our Potato Chip Extravaganza is unlike any other wine tasting that you may have experienced, featuring five Silver Trident wines, lovingly paired with five different artisanal potato chips. $50
Producing beautiful, highly acclaimed wines from both Napa Valley and Sonoma Valley, our second generation family owned winery features wines from all the varietals you love: Cabernet Sauvignon, Pinot Noir, Chardonnay, Sauvignon Blanc and Rosé.  Many of our wines are single vineyard as well.
Portfolio Flight Join us for a flight of 4 Stewart Cellars current release wines with our friendly and knowledgeable hosts in our Tasting Hall. $40
This tasting room in the heart of Yountville provides a relaxed atmosphere and the opportunity to taste a variety of carefully chosen wines selected by Master Sommelier Kevin Vogt and their team of industry insiders. With around 70 unique wines to choose from by the glass or taste, creating your perfect tasting has never been easier!
Tasting Options:  2oz tastings for $10, a flight of 5 wines for $50!
Located on the corner of Oakville Cross Road across the street from the famous Oakville Grocery, this tasting room is an intimate, casual space to taste and purchase estate grown and produced family wines.
Taste of Oakville Yountville AVA includes wines from Ghost Block, Oakville Winery & Elizabeth Rose, $45.
This mission-style estate winery is nestled on the valley floor in the heart of the Napa Valley.  The Oakville AVA is arguable the finest Cabernet Sauvignon appellation in the United States.
A Taste of Groth: Discover the Groth family's 40-year dedication to excellence as they guide you through a flight of winery-exclusive and limited-production wines, $50 per person.
Located along the scenic Silverado Trail, Miner Family Winery offers an incredible view of vineyards from the doors of their tasting room, along with a wide variety of wines.
Current Release Tasting $50 per person.
Stop by their unique neck of the woods; unwind and enjoy a guided wine tasting— find a shady spot in their stunning picnic grounds set amongst the vines, or settle into their Oakville tasting room.  The warm, welcoming, knowledgeable staff will make you feel right at home.  Bonus:  They welcome your pup with open paws, er….arms!
Tasting flights including Classic, Reserve, Winemaker or Quintessential range from $30-$50
Located adjacent to Oakville Grocery in a nearly 150-year-old Victorian house, Oakville Wine Merchant features 12 Napa Technology Wine Stations loaded with wines grouped by Napa Valley sub-appellations.  You can choses from dozens of choices to create a tasting that fits your preference and budget. The Oakville Wine Merchant is also home to the 1881 Napa Wine History Museum, where you can take in a little wine history! It is a truly customizable experience.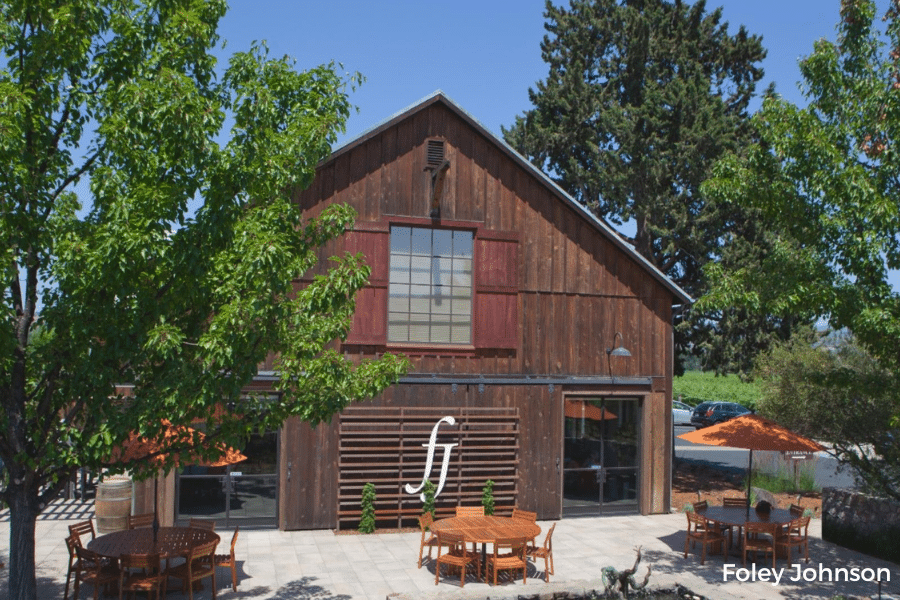 Cakebread Cellars has built a tremendous legacy in Napa Valley and proudly welcomes guests to the winery to sample the sustainably produced wine portfolio.
Take a communal walk around the grounds while tasting four current release wines with the Cakebread Classic Tasting for $50.
Set in an historic 1872 brick post office, this winery is one of the valley's best-kept secrets – from unique and balanced wines, to charming garden grounds, to an eclectic repository of curated kitchen gadgets and tools spanning a century.
The $50 Signature Flight includes a tasting of small-production wines from Napa Valley featured alongside wines from other California appellations.
For $25 partake in a self-guided walk of the Kathleen Thompson Hill Kitchen Memories Tour, a true treasure of the Napa Valley!
Located along Highway 29 in the prestigious Rutherford AVA, Foley Johnson exemplifies the understated elegance and casual warmth of the Valley.
Picnic in the Vineyards  Reserve a lounge table at our estate and enjoy a picnic amongst the vines! Enjoy this intimate setting with wine you purchase from the Guest Experience Center.  2 bottle minimum purchase per table.  This experience does NOT include a tasting option.  Reservation for parties of 2 to 8., $25 per person, plus cost of wine.
Explore the tasting that changed Napa Valley forever! Once set in founders Tony & HB Peju's famous Rutherford garage, the Original Counter Tasting is now hosted in the elegant 'Uluru Room' renowned for its stunning granite floors and counters and distinctive 'umbrella' chandeliers.  You will enjoy four classic PEJU wines and in celebration of their 40th anniversary, this PEJU experience is only $40!
Read more about our Elevated tasting experience with Peju.
Truly one of Napa Valley's best kept secrets!   Perched above the Silverado Trail east of Rutherford, this tiny winery is home to five vineyard designated Cabernet Sauvignons from vineyards that the Pina family farms in the Napa Valley. They are one of only a handful of eight generation Napa Valley farming families.   This charming stop will make you feel like you stumbled upon a secret.  Tastings are $45 and you will likely meet a family member and be astounded by the stunning wines.
The winery and its 24-acre estate vineyard were part of the original Rancho Caymus land grant given in 1836 to George Yount, the area's first European-American pioneer. The property was purchased in 1978 by James and Barbara Allen. The following year, the duo opened a winery in a 100-year-old barn beneath a grove of Sequoia trees.  Relax on the patios surrounded by majestic coastal redwoods while their friendly staff shares the story of their wines and winery.
Current Release Tasting is a selection of 4 wines exclusively offered at the winery, $45 per person.
Known for its exceptional Sauvignon Blanc and Cabernet Sauvignon as well as the proprietary Élu and Virtú blends, this winery has a broad portfolio and wine educators who are eager to help guests explore it! Be sure to head to the second floor to view the current art gallery exhibit.
The $40 Winemakers Selection tasting includes four red and white wines from the sustainably farmed vineyards.
Founded in 1969 by two aerospace engineers. ZD Wines is family owned and operated by three generations of the deLeuze family. Using a multi-pronged approach to organic farming since the early 1980's, ZD Wines embraces biodiversity, solar power, and chemical alternatives.
Vineyard View Tasting is a seated tasting, that allows you to take in the panoramic views across the Napa Valley from their Rutherford Bench overlook.  $50 per person. ​
Napa's oldest continuously operating winery, Beringer is an American wine icon built on over 145 years of winemaking tradition. Explore the unique history and expansive grounds of this timeless classic.
The $20 outdoor Stroll Around Beringer with a Glass of Wine experience is family- and dog-friendly!
Napa Valley's oldest wine estate, was established in 1861 and has been proudly stewarded by the Mondavi family since 1943. With more than 157 years of winemaking expertise, Charles Krug is the ultimate wine country destination.
The Estate tasting includes five current release wines for $50.
Clif Family is guided by values to sustain our planet, our community, and our people. They strive to support a healthier, more sustainable world through the enjoyment of wine, food, and connection.
The $50 Seasonal Wine Tasting features small production wines paired with culinary bites highlighting ingredients from the Clif Family organic farm.  Have someone in the group who is not a wine drinker?  They can book the new $50 Farm Elixir Mocktail Flight instead.
Looking for a more casual pace to your day?  Visit The Bruschetteria Food Truck at Clif Family. Fueled by seasonal ingredients from the certified organic Clif Family Farm and trusted local purveyors, the Clif Family Bruschetteria serves a unique and ever-changing menu of bruschette, porchetta, rotisserie chicken, farm fresh salads and seasonal sides.  The food truck is open Thursday-Sunday 11:30 a.m. – 4:00 p.m.  On Wednesdays, they are open 12:00 pm. – 6:30 p.m. and feature a special street food menu, highlighting a special cuisine, alongside their regular menu.  In addition, they often feature music on Wednesday evenings from 4:00 – 7:00 p.m.  You are welcome to order wines by the glass from the tasting room to pair with your lunch and enjoy on their charming patio.
Another staple in Napa Valley, Conn Creek has a continued focus on crafting the highest quality Cabernet Sauvignon, sourcing from nearly all of Napa Valley's distinct appellations.
The $50 AVA Experience Tasting illustrates the diversity of Napa Valley sub-regions and the distinct variations and expressions from year to year.
Gary's Wine & Marketplace in St. Helena offers a wine tasting experience unlike any other in the Valley. With their wide selection of rare domestic and unique international wines, flights transcend across borders and will delight your taste buds. You can mix and match flight tastings across your group and add a cheese & charcuterie platter hand selected from our gourmet cheese & meats section.  Flights available starting at $25.  When you're done with your flight, you can relax outside on the lawn or wander their aisles for local delicacies.
Featured in SF Chronicle's "10 Wine Country openings to check out in 2023", Markham creates a welcoming and informative tasting experience for all who visit. Sample gorgeous single-vineyard Merlots, Cabernets, and other delicious estate wines in a custom tasting – just for you.
The Classic Tasting Reservation $45 per person, is a seated experience and available both inside or outside.  If you want to bring your four legged friend, they are welcome for the outdoor tasting.
The Bar Tasting $25 is a great way for the wine lover with a time limitation to enjoy the hospitality and great wine Markham Vineyards is known for. Featuring three estate-grown wines, you'll learn of Markham's unique history and enjoy our newly renovated tasting room and bar.
Merryvale's historic building was the first winery built in the Napa Valley after the Repeal of Prohibition in 1933 and has become a favorite destination for visitors to the valley.  The stunning Cask Room is one of Napa Valley's most spectacular settings for special events.
The Signature Tasting, $50 begins with a taste of Solstice Sparkling, followed by Hyde Vineyard Chardonnay. Red wines tasted include our Brown Ranch Pinot Noir, Coombsville Merlot and Chairman's Selection Bordeaux Blend.
For Five generations, the Pestoni family has grown and produced single-vineyard, handmade wines. The family invites you to taste their wines, stroll their gardens and enjoy a picnic after your tasting, or when purchasing wine from the tasting room.  The Heritage Tasting is $50 and includes 4 wines.
Located just over the hill from St. Helena, this Pope Valley Winery can show you what family owned hospitality is all about. The Burgundy Winery Tasting , $45 takes place in the historic hand dug cave that dates back to 1897, offering indoor seating in the 2nd Story Fermentation Lounge or 3rd Story Pre-Prohibition Crush pad.
The perfect prescription for Port lovers since 1979. Family owned and operated Prager Winery & Port Works offers Vintage Port, Tawny Port, White Port, as well as Petite Sirah and Late Harvest Riesling table wines.
The Seated Tasting is $40.  A member of the family hosts each tasting.  This is NOT to be missed!
Proprietor Jean-Charles Boisset created a dynamic destination to inspire guests' passion for fine wine and to encourage exploration of the senses with interactive exhibits.
Sample signature Cabernet Sauvignon beneath Baccarat chandeliers in a working wine cellar during the The Crystal Cellar experience at $50.
For $40, the Taste of the Valley experience overlooking the vineyards introduces guests to several wines from the portfolio.
Sutter Home has a rich history of giving wine lovers the delicious products they want. Starting with the creation of the original White Zinfandel in the 1970s. Today, with more than 20 crowd-pleasing varieties. There is a Sutter Home wine for everyone. Traditional types such as Chardonnay, Cabernet Sauvignon, and Merlot, to more casual wines like Moscato and Sangria.
The Sutter Home Tasting Flight is available Thursday-Saturday & Monday.  Choose from the $10 Sweet Selection, $10 Fruit Infusion Flight or the $15 Founder's Selection to enjoy in the historic tasting room or the beautiful outdoor garden area.
From the Colorado Rockies to the Napa Valley, the talented Michael Trujillo has been involved in all aspects of the wine business for three decades.  One of the first winemakers to combine Rutherford valley fruit with the spicier, more intense mountain fruit, Michael created the "cult wine without the cult price". Much of his fruit comes from some of the finest vineyards of the Rutherford, Howell Mountain and St. Helena AVAs, including Herb and Jennifer Lamb, Gary Morisoli and Bryan Henry.
Taste four wines, in either the cozy tasting room or on their delightful outdoor patio for just $25.
Founded in 1885, this family-owned winery makes more than 60 different wines! It is a must-see destination that features an array of great wines, a wide variety of food items from the on-site deli, a large picnic area and garden with scenic views, and wine caves.
The $45 Premier Indoor Tasting includes five wine samples.
The Premier Outdoor Tasting includes up to five wines and starts at $50
The $50 Bubble Bar Tasting includes four samples of sparkling wine served on the iconic Stone Winery Terrace, available on Fridays, Saturdays, and Sundays from 10:00 a.m. – 4:00 p.m.
Interested in a tour?  Book the Guided Tour & Tasting, get to know the iconic V. Sattui Winery along with their mission for sustainable grape growing and winemaking practices. Your tour concludes with a complimentary tasting flight for each guest from their top-tier portfolio of award-winning wines.  Adults $40, Children (Ages 2-20) $25.
Whitehall Lane Winery is a local, family-owned and operated winery in the Rutherford district of Napa Valley.  The are well known for the welcoming nature and top -notch customer service, along with premium wines.  If you are looking for a same day experience, be sure to call them at (707) 963-9454 x 2.  They always do their best to accommodate!
The Current Release Bar Tasting features 4 wines and is $40 per person.
Affectionately known as "The Castle," this stylized replica of a 14th-century Tuscan castle winery is a Napa Valley landmark.
A $50 Standing Reserve Tasting allows guests to taste a flight of five wines from the extensive portfolio and enjoy a self-guided tour of the castle and grounds.
Enjoy the laid-back vibe of their Napa tasting room, located just off Highway 29 a mile south of downtown Calistoga. Surrounded by ornately landscaped gardens, the modern farmhouse-style tasting room opens onto a sun-filled courtyard framed by lush vineyards and views of the Calistoga foothills.
The Twomey Experience features Sauvignon Blanc & three Pinot Noirs for $35
There are so many beautiful and varied tasting experiences available throughout the valley, this list is certain to have something for everyone and leaves you with a little extra spending money to take some of your favorite wines home with you!  Cheers!