A visit to Yountville would not be complete without a wine tasting experience!  With over 14 tasting rooms all in strollable distance and 7 winery properties within a few miles drive, it is no wonder many refer to Yountville as The Heart of Napa Valley. While there has been some chatter about how expensive wine tasting in Napa Valley has become, we found 14 options in Yountville, all $50 and under!
Please note that tasting experiences change often, so please make sure to confirm dates, prices and offers with the wineries and tasting rooms before visiting.  It is great to note that many of our Yountville tasting rooms and wineries are available for same day reservations and visits, so do not hesitate to pick up the phone and call to confirm openings if you happen to land in town without plans!
TASTING ROOMS
It all started with a group of friends sharing a bottle of Cabernet Sauvignon around a picnic table on the hillsides of Howell Mountain. From what could have been a passing moment of inspiration has resulted in over 30 years of small-production wine making.
Situated in the rolling hills of eastern Napa Valley, Hestan Vineyards is a 56-acre tapestry of small, individually farmed blocks, planted to the five principle red Bordeaux varietals: Cabernet Sauvignon, Merlot, Petit Verdot, Cabernet Franc, and Malbec.  They invite you to visit in their tasting salon. Built in 2013, the unique salon showcases Hestan's wines, Hestan cookware and Ruffoni Copper cookware.
Salon Tasting Yountville Enjoy a seated wine tasting experience featuring current Release wines, select Library offerings and limited release wines, most of which are available only at the Tasting Salon, $40
Hill Family Tasting Salon is an elegant yet relaxed experience located in the heart of Yountville.  Our salon-styled tasting room offers a comfortable setting amid eclectic décor such as a Fender electric guitar, antique furniture, a surfboard, and baseball bats stained with Hill Harvest Red wine.
Seated Wine Tasting

Join Hill Family at their downtown Yountville tasting room where you will explore an array of wines made from grapes that owner Doug Hill has been farming since the 1970s. Enjoy Napa's finest hospitality in a comfortable setting, where they will change your name to Hill for the day.

$40

, waived with $100 wine purchase

Wine & Cheese Pairing

Join Hill Family at their downtown Yountville tasting room for a tasting of current release wines, paired with an assortment of artisanal cheeses, crackers and almonds.

$50

, waived with $100 wine purchase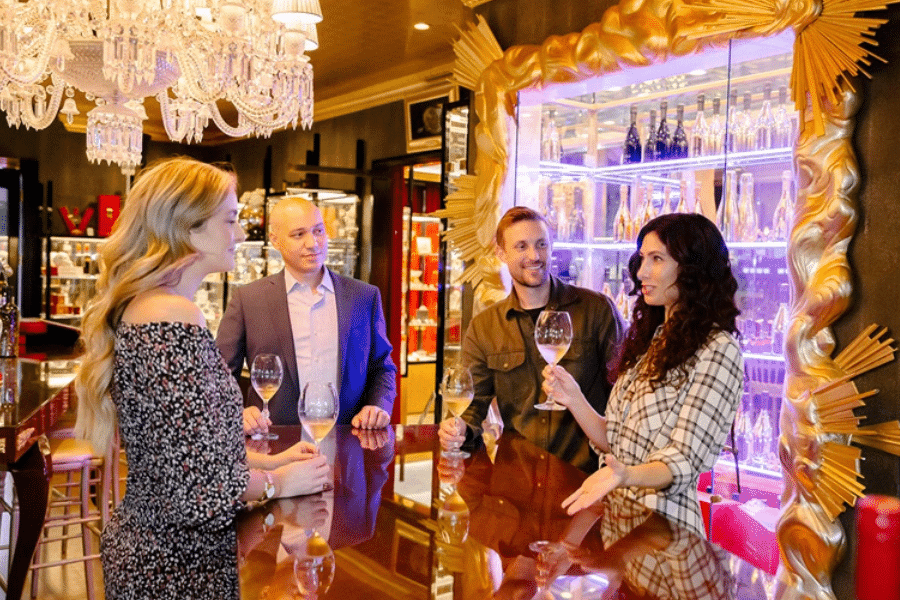 Derived from a dream over a decade ago to a thriving artisan winery in Yountville, Napa Valley. Hope & Grace began its journey as a winery in 2001 with a small production of Pinot Noir from the Santa Lucia Highlands.  Today we are a modest producer of 3,000 cases annually. Focusing on limited production, single vineyard, 100% varietal Pinot Noirs, Cabernet Sauvignons, Malbec, Sauvignon Blanc, Chardonnay and Dry Riesling.
Classic Wine Tasting Join Hope & Grace for a relaxed experience, explore limited production, Artisan Wines at their exquisite tasting room bar. From Pinot Gris, Pinot Noir, Malbec, and Cabernet Sauvignon, a new favorite will await you! $35
Wine & Cheese Experience Join Hope & Grace for a special wine tasting experience at their charming tasting salon located in Yountville, Napa Valley. Their warm and knowledgeable staff will guide you through limited production wines, while sharing their story, as well as Napa Valley history. To further enhance your experience, your wines will be accompanied by delicious local and international artisan cheeses! $50
The JCB Tasting Lounge experience is a one-of-a-kind tasting room and retail store that encompasses the unique JCB approach that unites exclusive Napa Valley wines, luxury, and style, curated and created by Jean-Charles Boisset. It is a destination that unites wine tasting with retail fashion and lifestyle.
JCB Salon Wine Tasting Guests may choose from three curated wine experiences enjoyed in luxurious JCB Passion Baccarat crystal. 60-minute premium tasting flights range from $50, $65, and $85 and showcase our finest selections of Sparkling Wine, Chardonnay, Pinot Noir, Cabernet Sauvignon, and Red Blends sourced from Sonoma, Napa, and French vineyards. Starts at $50.
The Jessup Cellars story is one of passion, family, hard work, resilience and, of course, fantastic wine. Over the past two decades, Jessup Cellars has earned a loyal following for its ultra-premium wines of distinction and a word-of-mouth reputation for hosting one of the friendliest tasting rooms in all of wine country.
Visit the Priest Ranch tasting room for a uniquely cultivated and unexpected wine country experience. They offer distinctive tasting programs in an inviting, comfortable, and sophisticated wine tasting and shopping space.
Seated Tasting Experience Enjoy a seated tasting experience on the patio or in Priest Ranch beautiful tasting room.  Various flights are available to choose from upon arrival ($40 to $100 each) as are culinary additions.
Furnished exclusively with the Ralph Lauren Home Collection, a whole new approach pairing great wines with world-class home décor.
Flight of 5: This classic wine tasting experience includes: 'Apollo's Folly' Rosé of Pinot Noir (Sonoma Coast); 'Symphony No. 9' Sauvignon Blanc (Napa Valley); 'Benevolent Dictator' Pinot Noir (Russian River); 'Playing With Fire' Napa Valley Red Blend and 'Twenty Seven Fathoms' Cabernet Sauvignon (Napa Valley). $50
Potato Chip Extravaganza: Crunchy, salty, fun and ridiculously delicious. Our Potato Chip Extravaganza is unlike any other wine tasting that you may have experienced, featuring five Silver Trident wines, lovingly paired with five different artisanal potato chips. $50
Producing beautiful, highly acclaimed wines from both Napa Valley and Sonoma Valley, our second generation family owned winery features wines from all the varietals you love: Cabernet Sauvignon, Pinot Noir, Chardonnay, Sauvignon Blanc and Rosé.  Many of our wines are single vineyard as well.
Portfolio Flight Join us for a flight of 4 Stewart Cellars current release wines with our friendly and knowledgeable hosts in our Tasting Hall. $40
Owned by Master Sommelier Kevin Vogt is the go to high end wine shop and tasting room in Yountville.
Tasting Options:  2oz tastings for $10, a flight of 5 wines for $50!
WINERIES
Chandon provides visitors with one of the most beautiful locations in Napa Valley to taste and learn about its award-winning portfolio.  Offering exquisite architecture and lush landscape under the California sun; locals and travelers alike will find themselves in an American Eden at the winery.
From what started with a handful of barrels made from a dear friend's vineyard in 1987, Elyse Winery has been the waypoint for countless wine lovers to experience California wines and fall in love with wines and vineyards of all regions and acclaim.
A family winery overlooking the bucolic Napa Valley countryside nestled amid our estate vineyard in Yountville. Join them for a tasting outdoors on our patio while taking in the spectacular views of our estate vineyards and the Mayacamas Mountain Range.
Produces hand crafted, all-natural wines, each a singular expression of unique grapes. Aged to produce flavors defined by their purity and understated elegance.