The culinary heart of Napa Valley, Yountville CA, is the ultimate wine country getaway. Yountville, is all about passeggiata – the art of the stroll. Michelin-starred restaurants, boutique shopping, world-class art, as well as what Napa Sonoma Magazine deems the 'best up-valley golf course,' are all within walking distance. Add friendly, small-town culture, and you will see how Yountville elevates a simple stroll, to a place of discovery that can easily achieve your 10,000 steps goal, or five miles, each day.
Below are three distinctly different, yet equally fun and energetic days of passeggiata in Yountville.
The
Vintners Golf Club
, one of the valley's best kept secrets, is located on the grounds of the historic Veterans Home of California. This jewel of a course features nine challenging holes, several with water features, complete with beautiful vineyard and mountain views. Morning golfers are often rewarded with hot air balloons leisurely drifting overhead on their way down valley. A round during afternoon twilight offers stunning sunsets that reflect off the Stag's Leap appellation along the Vaca Mountain range to the east. Vintner's Golf Club features a pro shop with friendly staff and The Lakeside Grill, an on-site restaurant, with an impressive selection of beers, cocktails (try the bloody mary) and, of course, Napa Valley wines. A round of nine holes on this course clocks in at approximately 4,220 steps, or two miles. Playing a full 18 holes adds up to more than 8,440 steps, or approximately four miles…almost your whole 10,000!
After an invigorating round of golf, you are sure to be thirsty, so stroll down Washington Street to Thomas Keller's La Calenda for a tasty tequila cocktail. My current favorites are the La Calenda margarita and the Tamarind Pisco Sour.  If you are in need of snack order the Totopos, Guacamole y Salsa and the fish tacos to satisfy your hunger. Sip your cocktails outside on the patio for some of the best people watching in town.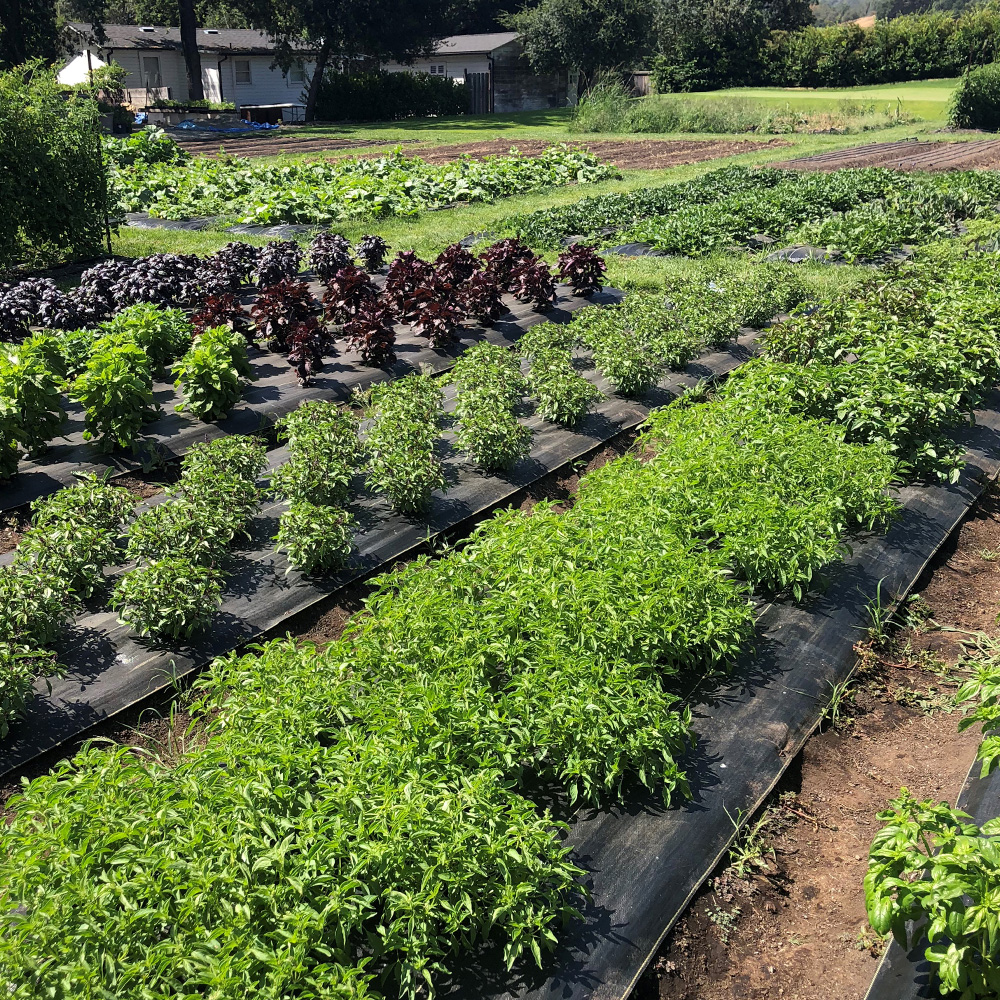 After your beverage break, Take some time to explore the French Laundry Gardens, across the street from The French Laundry itself. You are welcome to stroll among the fresh produce that supplies celebrated Chef Thomas Keller's seven Yountville restaurants and bakery. Make sure you walk to the back of the garden to say hi to the chickens. Your walk through the gardens will surely secure your 10,000 step goal!
Day Two: Sips, Sculptures and Spheres
Start your stroll right outside the Welcome Center and take a picture of Let Lve Bloom by Karen Lynn Ingalls. Directly behind Let Love Bloom is Wine Country Connection. Stop inside and taste wines from all over the world with owner and Master Sommelier Kevin Vogt. After your round the world tasting head north to take a selfie with Sidewalk Judge, the most photographed thing in Yountville CA! Finish your Art Walk stroll at The Wine Vault at RH Yountville. At the RH Wine Vault you can try wines from some of the top producers in Napa Valley. In addition to beautiful sculptures and exceptional wine, another bonus of the Art Walk is that you will have added 4,220 steps – or two miles- towards your 10,000 step goal.
All of your walking will have worked up an appetite so stop by
R&D Kitchen
for their famous dip duo or share a sushi roll. After your snack it's time to start walking again! Just out of town on the Yountville Cross Road is the Ecological Reserve (also known as the Crossroads). You can explore the Napa River and the natural beauty of Napa Valley.
After your nature adventure stop by one of Yountville's out of town wineries
Goosecross Cellars
or
Cliff Lede Vineyards
. Both have spectacular views of the valley floor and wines that will make you glad you made the trip!
After sipping wine, enjoying nature, and drinking in the arts, head to Yountville's Vineyard Park and play some pickleball on the newly re-done outdoor pickleball courts! Vineyard Park also has outdoor workout equipment if you want to go above and beyond your 10,000 steps for the day.
Day Three: Vine Trail South
After two days of 10,000+ steps you deserve a morning of relaxation! Book a massage or facial at The Spa at The Estate and indulge in all that the spa facility has to offer. After your relaxing morning, pick up a quick coffee and hearty breakfast at Southside Cafe, (try the avocado toast with smoked salmon), and get ready for your last full day.
Yountville is lucky enough to be the current end point of the the Napa Valley Vine Trail. The trail currently connects South Napa to Yountville. This walking and biking path can be used to access some of the wonderful wineries and attractions that are just south of Yountville.
Start your Vine Trail journey with a stop at Chandon. Enjoy a glass of sparkling wine and a cheese plate while taking in a spectacular view of Yountville. After your tasting walk nextdoor to the Napa Valley Museum Yountville to take in some local culture and history. After exploring the museum you will have easily completed half of your 10,000 steps for the day!
For your last stop of the day walk down the Vine Trail to Elyse Winery. Elyse Winery is a small winery with a to die for Petite Syrah and killer Rosé. If it is a nice day, sit outside in their garden and enjoy the warm Napa Valley Sun. You will have now reached your 10,000 step goal while enjoying the all beauty that the Vine Trail has to offer!