The sun is shining and the flowers are blooming in the Napa Valley. As we move into our perfect spring and summer weather, locals and visitors alike feel the need to spend more time outside. Luckily, Yountville has lots of opportunities to enjoy the outdoors. One of the best ways to enjoy the California sunshine is to picnic in one of Yountville's beautiful public parks.
Atelier Fine Foods
has everything you need to build the perfect picnic basket. Located in the heart of Yountville, Atelier Fine Foods is an epicureans paradise. Offering a curated assortment of culinary delights, Atelier is your one-stop shop for all your picnic needs. Gourmet offerings include; an elegantly presented collection of cheese sourced locally in Napa and Sonoma as well as from Europe. Alongside the impressive collection of cheeses, visitors can find sandwiches, mustards, honey (sourced from estate beehives at Raymond Vineyards in Napa Valley and DeLoach Vineyards in Sonoma), marmalade, dry pastas, Napa Valley locally-produced olive oils, Napa Valley vinegar, smoked salmon, California caviar, anchovies, truffles, foie gras, terrines, prosciutto, local and international cheeses, dry crackers, chips, sparkling waters, juices, and specialty teas.
Atelier has many items that can take your picnic to the next level. Below are a few of my favorites.
Sugarfina candies are the perfect pairing for sitting on a blanket under the sun. The Bubbly Bears are made with Dom Pérignon Vintage Champagne and are a sophisticated take on everyone's favorite childhood candy with an added sour twist. My favorite Sugarfina candy is the Peach Bellini. All natural, these gummy hearts are filled with a peach center and covered in sweet & sour sugar crystals for a grown-up gummy experience.
Butter excellence does not begin to describe the perfection of Panevino Breadsticks. Baked in Napa Valley each breadstick is created with the patience that it takes to create a loaf of artisan bread. Perfect for dipping in spicy mustard or local honey Panevino Breadsticks instantly elevate any picnic experience.
Atelier Sweet and Spicy mustard and Italian Truffle Honey
When you are eating a lunch of mostly cheese, it is important to have the proper toppings. Atelier Sweet and Spicy mustard is the perfect addition to any hard cheese and is produced locally by Sheri Hurley of Hurley Farms. The mustard is made in small batches to make sure each has a distinct and homemade taste. Honey is probably my favorite way to dress up any cheese plate. Mitica Truffle Honey takes honey to a whole new level. A blend of acacia honey with Umbrian black truffles it is the definition of decadence.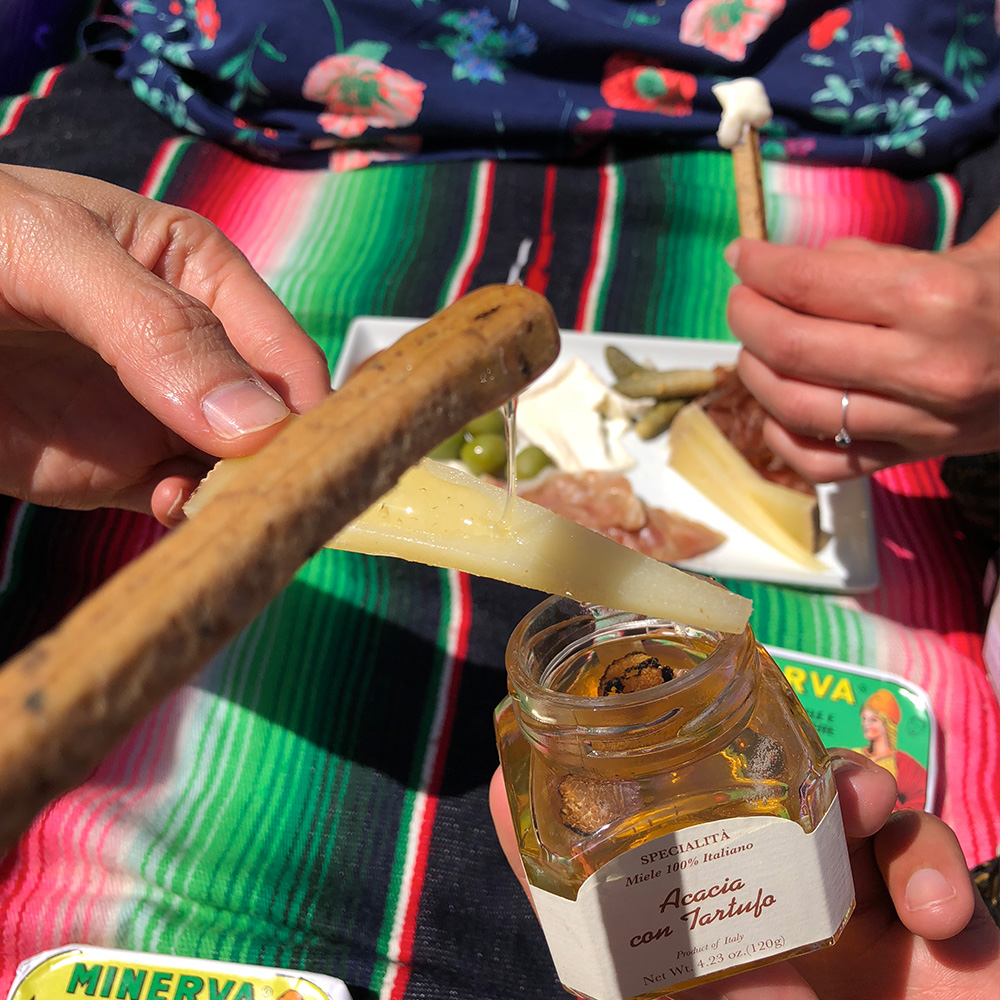 Minerva Sardines and Tuna
You have never tasted tuna until you have had Minerva Tuna in olive oil. Minerva has been producing premium canned fish since 1942.  Minerva's canned fish are prepared with fresh fish caught daily on the Portuguese coast and are hand selected to ensure the highest taste.
To me, no meal is complete without something pickled, and that includes picnics in the park. These skewers of pickled onions, olives, red peppers, gherkins and guindilla peppers are a specialty of Spain and are the perfect straight out of the jar snack.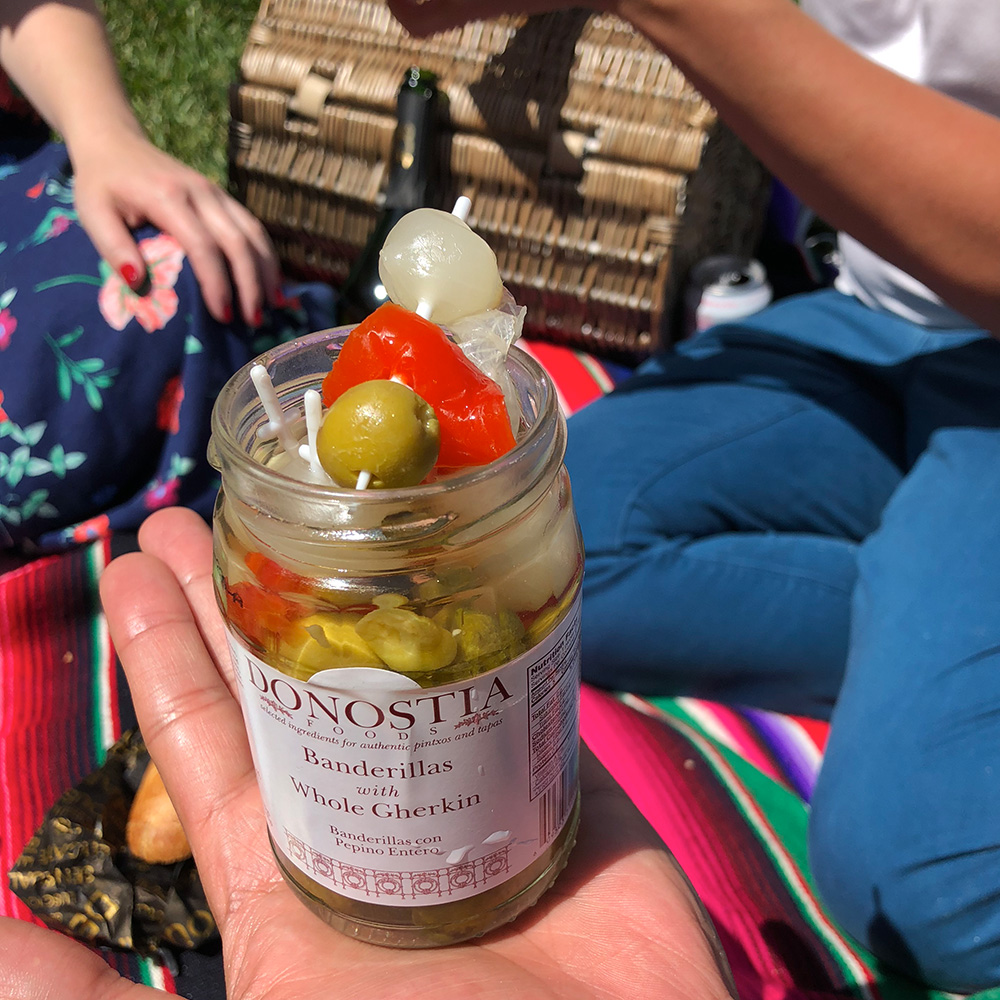 Once you have crafted your perfect picnic, walk through the glass doors into the
JCB Tasting Salon
to pick up a cold bottle of sparkling wine. My favorite for a picnic is the No. 8.
JCB No. 8
comes from Burgundy and was created with the best quality grapes from the 2009 harvest. The wine offers aromas of vanilla, oak and honey and pairs perfectly with any
Atelier
sandwich.
Once you have created your perfect picnic do what the locals do; grab a picnic blanket and head to the park!